CD and DVD DigiFiles, card sleeves, wallets
Instant quote for CD & DVD in printed 2, 4, 6, 8 panel wallets & digifiles
Digifiles are an eco-friendly packaging option. Available in 2 panel, 4 panel, 6 panel and 8 panel options, with 1 or more discs or booklet combinations.

Select your preferred style below and create an instant quote.
CDs in printed card sleeves make a great choice when you require a bespoke card packaging at an economical price.
Our card sleeves feature full colour printing on both front and back panels and whilst most other companies print on a light 200gsm card, our CD sleeves are printed onto sturdy 320gsm heavyweight card stock ensuring a high quality finish and product.
The 2 panel CD sleeves are finished with a choice of gloss or matt laminate and can be used to hold either DVDs or CDs.
Use the instant quote form to generate a price for card sleeves packed and supplied with either CDs or DVDs.
Product features
Card sleeve video
Card sleeve templates
The four panel printed card wallets are a great alternative over plastic CD or DVD cases.
The four panel wallets can be ordered with a minimum order quantity of just fifty units.
We offer three types of pocket style to hold the discs. Slot load, thumb pocket and crescent pocket, there is no difference in cost regardless of the disc pocket style.
The pocket variety can be viewed in the wallet product gallery.
Our wallets, also known as digifiles, are printed on a heavy-duty 320gsm card stock, then pasted on themselves to form an extremely sturdy 640gsm bespoke CD or DVD packaging solution.
The wallets, or digifiles, can be customised with the addition of a booklet which is housed in a matching pocket on the left hand panel to create a truly unique and stunning case for your CD or DVD release.
4 panel wallet templates
Product features
Wallet & digifiles video
Booklet insert templates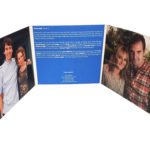 The 6 panel wallets are available with one, two or three pockets to hold discs and booklets.
The pocket style options available are thumb cut, crescent cut and the slot cut. The three pocket styles can be seen in the adjacent image gallery.
As with our other card based bespoke CD and DVD cases, the six panel digifiles are available with a gloss or matt finish included in the price.
The wallets are printed to 320gsm stock, which is then doubled up to form a sturdy six panel wallet.
The digifiles, or wallets, feature a 4mm spine, which can be printed on to show information about the release title, artist and catalogue number.
Using the quote form, generate a custom price combining one, two or three discs and booklets containing various numbers of pages.
Product features
6 panel wallet templates
Booklet insert templates
The eight panel printed card wallets and digifiles are a truly stunning and imposing disc packaging.
Eight panel digifiles can hold one, two, three or four discs, or combine several discs with an inserted booklet.
The eight panel wallets are printed on a sturdy 320 gsm card and doubled up.
The wallets are available with gloss and matt finishes.
Choose from three types of pocket. These are slot pocket, thumb and crescent styles.
Browse the image gallery to view the different pocket styles.
The quote form can be used to combine up to four CDs and DVDs along with 4 to 32 page booklets to create an absolutely unique piece of packaging for your CDs and DVDs.
Product features
8 panel wallet templates
Booklet insert templates